HOW TO USE THIS APPLICATION
This website is a tool to help delineate ABA Accessibility Guidelines (ABA Guidelines) by scope areas specific to the US Department of State's (DOS) project types and exceptions. It is organized by project type to help each professional target their specific Scoping Requirements. Each project type has its own compliance categories that must be followed.
To facilitate better understanding, graphic representation and text descriptions of each Scoping Requirement is included.
Additional ABA Guidelines can be accessed by clicking on the Full Details or Read Section buttons below each image.
HOW CODES + GUIDELINES ARE TO BE USED
Applicable Building Codes, design practices, and other factors provide the overall guidelines necessary for a space or site such as; parking, means of egress, plumbing fixtures, etc.
ABA Guidelines – specify the elements and spaces provided that must be accessible.
Scoping Requirements – indicate which elements and spaces must be accessible on a site or in a building. They denote each area and their specific requirement. Each category should be reviewed to help facilitate a clear understanding of the ABA Guidelines.
BROWSERS
This website is optimized for use in Chrome or Firefox.
Internet Explorer, Edge, & Safari are not recommended at this time as some capabilities may be limited.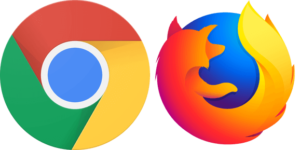 HOMEPAGE
This website is designed to make navigating the site and utilizing the online resources simple. Take a short tour to discover all of the new features of our site.
Navigate to your desired page or resource by clicking on the appropriate header at the top of the page.

Click on the magnifying glass to search the entire website for specific information.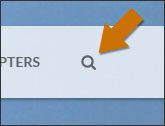 Type your search terms, and click on the blue Search icon.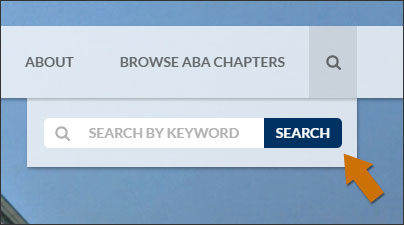 Below the scrolling images on the Home screen you can select the building type  which most closely matches the type of project for which you are seeking information.  There are six categories – Access Control, Office, Recreational, Service, and Site/Compound.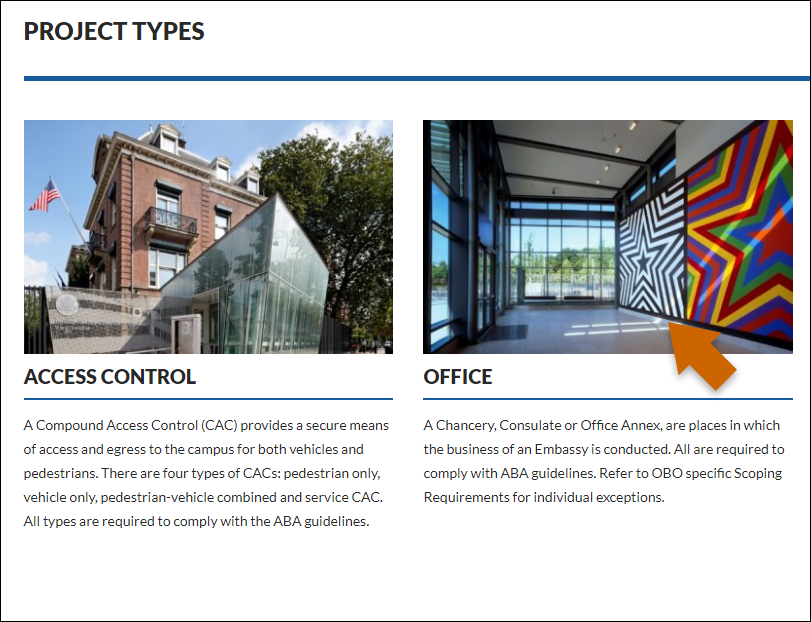 FILTER PAGE
All of the filter options are located on the left side of the page and broken down by Scoping Chapter, OBO Project Type, and Figures.
Scoping Chapters filter provides content directly related to the subject matter described in the header.
Each OBO Project Type provides content relevant to that type of building.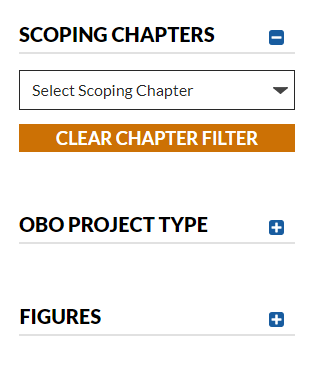 Start your search, click the Scoping Chapter dropdown menu to see all the Scoping Chapters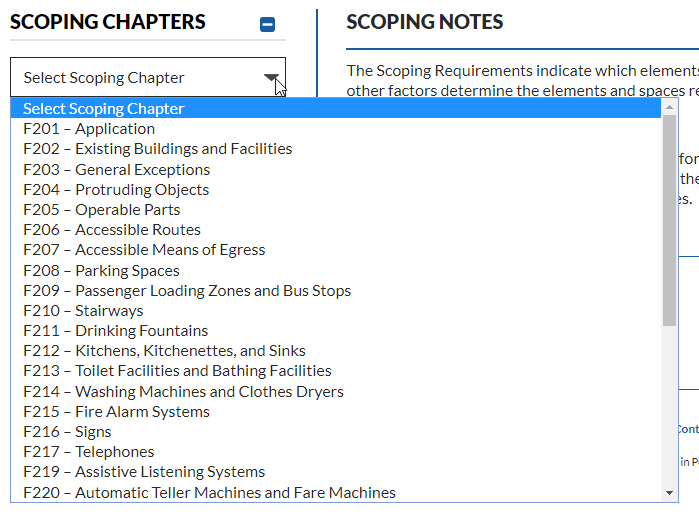 Selecting a chapter will display both Scoping Notes for that specific chapter as well as related Figures. We recommend that you begin your search of the online guide here before refining your search through the Project Type and Figure filters.  Users should only refer to the figures when they appear under their relevant Scoping Note.
To begin exploring the Project Type filters, click on the + symbol to open a panel and review additional filter options.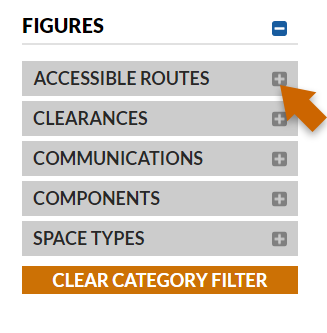 There are five primary types of Figures including Accessible Routes, Clearances, Communications, Components, and Space Types.  Additionally, each of the Figure types has several sub-categories.  To view the sub-categories click on the + symbol to open the expanded Figure list.
When a Figure type or sub-category is selected the relevant images and headings appear below the Scoping Notes.
Click on the Read Section to get more detailed information about a search result.
Clicking the Full Details icon, or the image to display the full image, header, and scoping notes.
You can add this item to your saved search by clicking the star-shaped icon.
If an item is already in your saved search, the star button will be filled in. Clicking this filled in star will remove this item from your saved search.
Clicking the printer icon will bring the user to the print screen.
To close the Full Details click the "X" in the upper right hand corner of the website.
On the Filter Page, Scoping Notes are closed by default. Clicking the heading will expand the text to display all the information.
Once expanded, you can read more information about this scoping note.
Click Clear Project Filter and/or Clear Category Filter to remove any filters on your search results and start a new search.
SAVED SEARCH
This site utilizes a Saved Search feature, that allows you to save items to review or print later. Cookies must be enabled on your computer for this feature to work.
The Saved Search feature will appear at the bottom of the page once items have been saved.

You can use the Right and Left arrows on either side of the Saved Search to scroll through additional saved items.

You can print all of your saved items at once by clicking this Print button.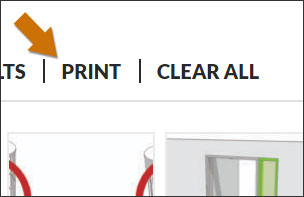 You can remove all of your Saved items in a single click by clicking the Clear All button.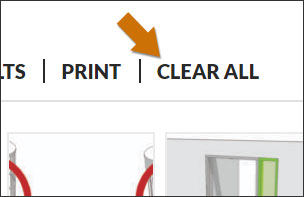 You can print an individual item by clicking the Print link directly below it.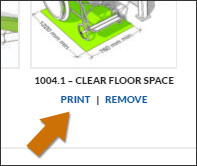 You can remove a single saved item by clicking Remove under that item.